Designer:
ANNE GRANDINETTI
DESIGN ASSISTANt:
LAUREN GUNN
Architect:
CURTIS & WINDHAM ARCHITECTS
R.B. RATCLIFF & ASSOCIATES
Photographer:
SHADE DEGGES
THIS HISTORIC PRESERVATION TAKES PLACE JUST EAST OF HOUSTON IN THE QUAINT TOWN OF WALLISVILLE, TX. THE HOME WAS ORIGINALLY BUILT IN 1905 BY THE CLIENT'S GREAT GRANDPARENTS, SO WE SET OUT TO CREATE A THOUGHTFUL, TIME-HONORED SPACE. ASHBY COLLECTIVE COORDINATED THE TEAM BY BRINGING ON RENOWNED CURTIS & WINDHAM ARCHITECTS AND BUILDER RATCLIFF & ASSOCIATES.

THE EXTENSIVE RENOVATION BEGAN WITH AN EXPANSION OF THE GUEST COTTAGE (KNOWN AS THE COOPER HOUSE), A RELOCATION OF THE POOL, AND AN ADDITION OF A POOL PAVILION. THE MAIN HOUSE FOOTPRINT WAS LARGELY KEPT INTACT TO HONOR THE AUTHENTICITY OF THE HOME, APART FROM THE CREATION OF THE MUDROOM. THE HOME WAS GUTTED AND THEN THOUGHTFULLY AND METHODICALLY PIECED BACK TOGETHER WITH MODERN AMENITIES. ASHBY COLLECTIVE LOOKED BOTH NATIONALLY AND INTERNATIONALLY TO SOURCE UNIQUE AND CUSTOM MATERIALS AND FURNISHINGS, WHILE MIXING IN FAMILY HEIRLOOMS. WE ALSO HAD THE PLEASURE OF UTILIZING THE COUPLE'S IMPRESSIVE ART COLLECTION TO FURTHER ELEVATE EACH SPACE. A CUSTOM MURAL BY RUSTY ARENA WAS COMMISSIONED FOR THE ENTRY TO FEATURE THE LANDSCAPE OF THE PROPERTY AND THEIR GROWING ASSORTMENT OF ANIMALS.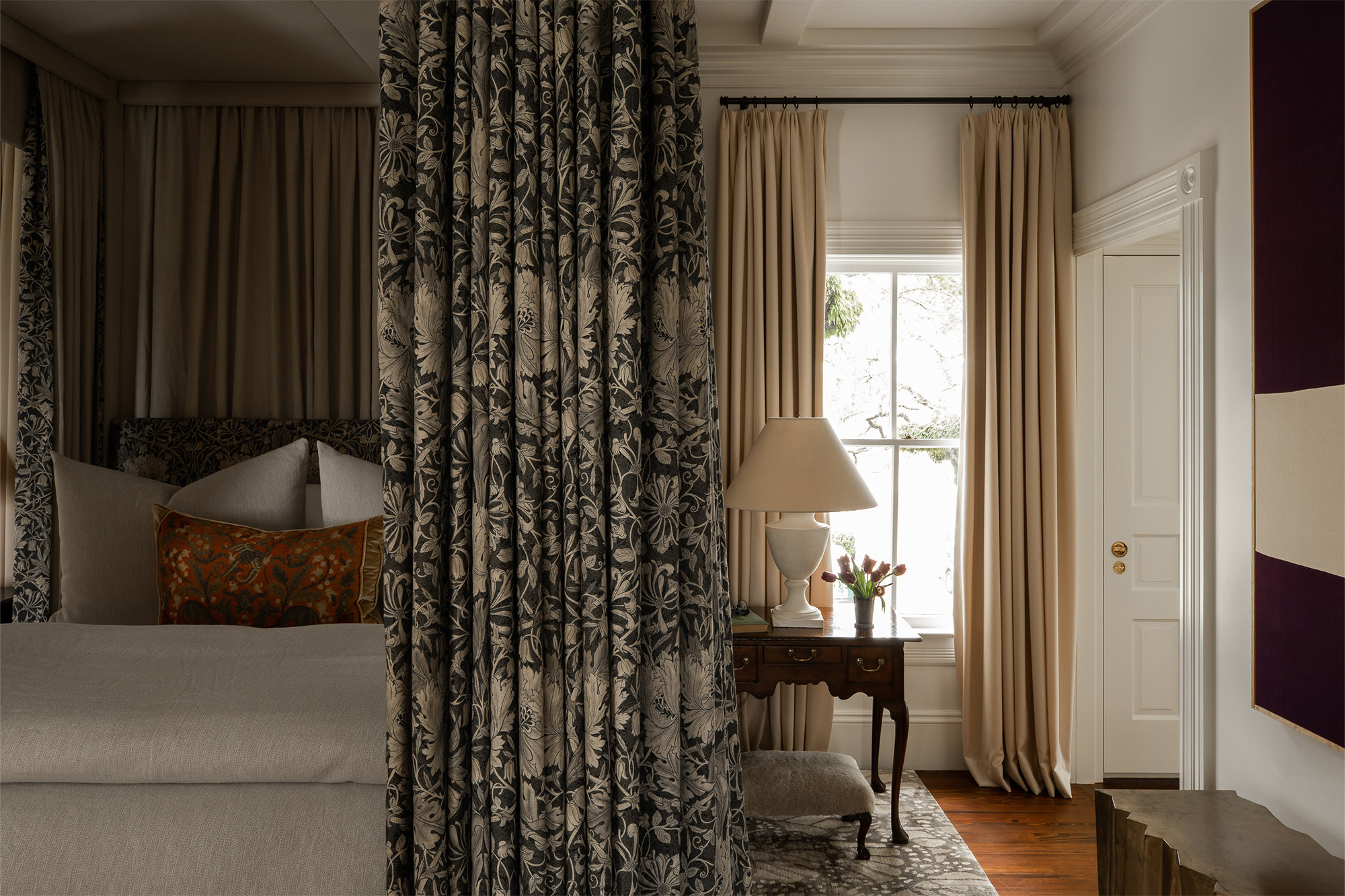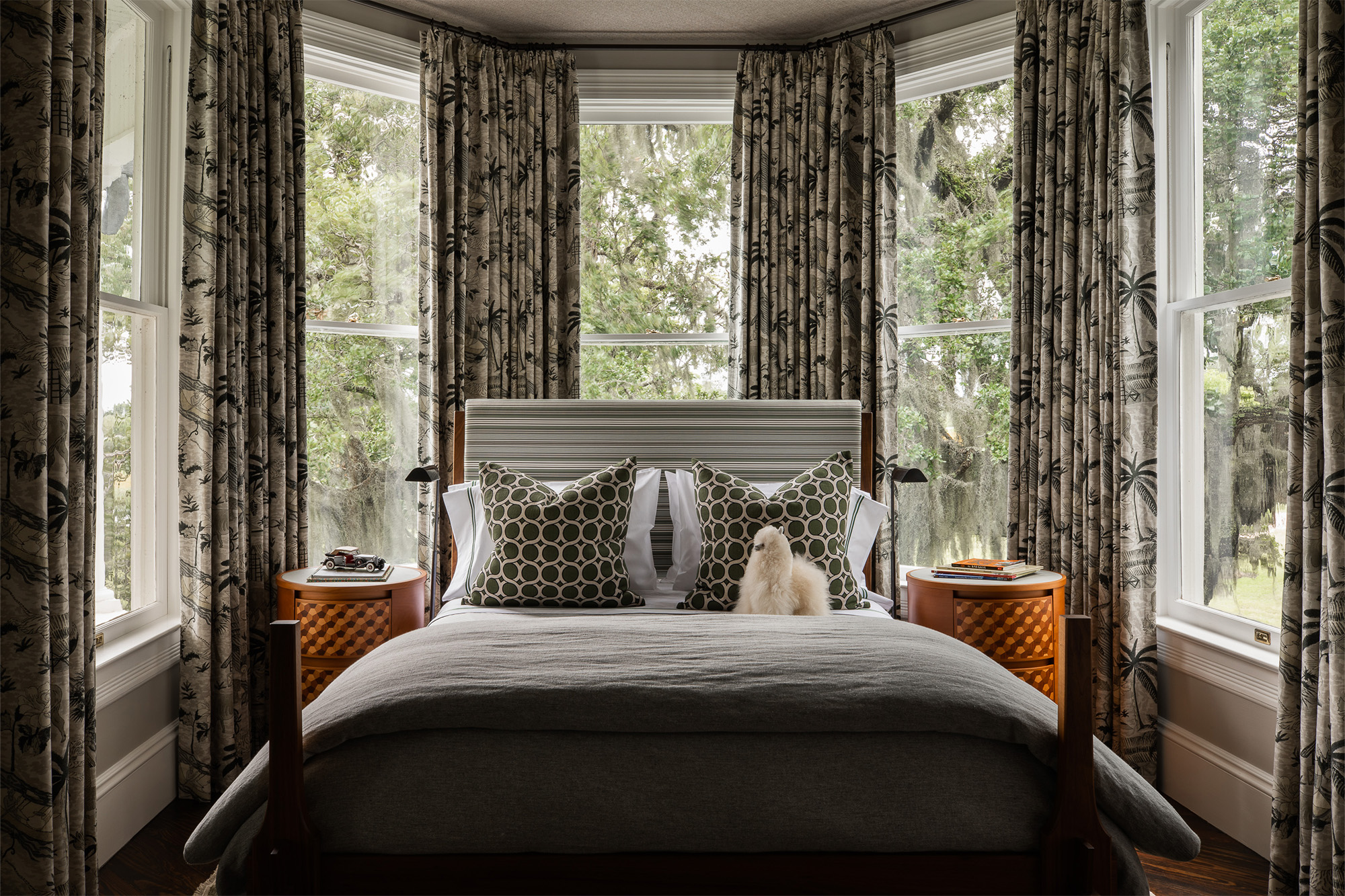 Seven generations of a prominent political family have lived on their clapboard estate in Wallisville, Texas, so when Anne Grandinetti of Mark Ashby Design was asked to remodel it from scratch, striking the balance between heritage and modernity was key

Anne and her team retained a deep respect for tradition and the house's heritage. A local Houston artist named Rusty Arena painted a mural in the entrance hallway of pastoral scenes subtly based on the real-life property.

HOUSE & GARDEN